Trout Scapes River Restoration LLC is pleased to announce that we will be working in Connecticut on two new projects.  Connecticut is home to native brook trout as well as wild brown and rainbow trout in most of its major drainages.  Trout Scapes will be restoring a tributary of the Housatonic River, the Pootatuck River, in Newtown, CT and performing survey and design work on nearly one-half mile of the Norwalk River in Wilton, CT ahead of restoration construction as early as summer '18.  Both projects are on public lands, and both projects' clients are watershed and conservation organizations working hard to protect and restore coldwater resources in that state.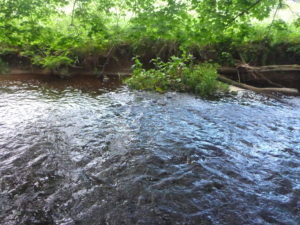 ABOVE: Pootatuck River showing exposed banks
The Pootatuck project includes root wads to restore two sections of eroding banks while creating deep pool habitat for summer thermal relief for native brook trout.  Trout Scapes will use soil bioengineering techniques on the banks and bed manipulation in the river bed to restore this section of the river above the Deep Brook tributary.  Work is tentatively slated for summer '18.
BELOW: the Norwalk River in Wilton, CT showing various man-made legacy impacts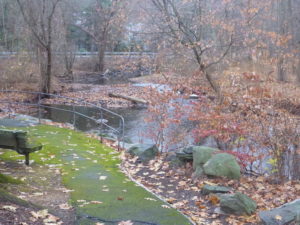 BELOW: Norwalk River showing a remnant dam that still negatively impacts the river in high flows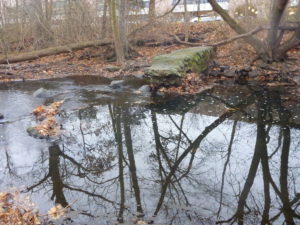 The Norwalk River's Schenck's Island section in downtown Wilton, CT is already popular with anglers, dog walkers, bird watchers, and other visitors.  A portion of this section of the river is owned by a local land trust with the town owning the rest of this stretch of .45 miles.  This river is both a trout stocked and wild brown trout river, and it suffers in locations from man's impacts including stormwater runoff, building too closely and within the floodplain, channelization, obsolete dams, and tree and shrub removal to list a few.  Restoration of this section will showcase the river in the town once a formal design has been created and permits have been approved, hopefully by summer '18.